5月9-11日
,东莞市顺心自动化设备有限公司
将精彩亮相"2019第二届亚太(越南)网版印刷及数字化印刷工艺技术展览会",诚邀新老客户莅临
D201展位
。5月9-11日,越南胡志明市西贡国际展览会议中心与您不见不散!
产品介绍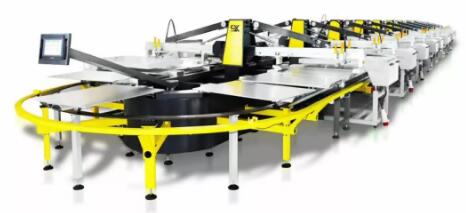 椭圆机特点如下:
The elliptical machine characteristics of the company are as follows:
1、套位精度高:技术先进,成熟稳定,设备套位精度误差在正负0.02毫米之间,有效提高印刷产品的优良率,提升印花产品质量。
1.Sets of high precision: advanced technology, mature and stable, equipment set of position precision error between positive and negative 0.02 mm, effectively improve the excellent rate of printing products, enhance the quality of printing products.
2、印花工位数量: 采用印头——烘箱——冷却的排列方式,各种浆料均可生产,特别适合水浆·胶浆·油墨·拔印·发泡·金葱等多种印花工艺。
2.Printing station number: using the print head -- oven -- cooling arrangement, the production of a variety of slurry can be, particularly suitable for slurry, mortar, ink pull seal foaming, glitter and other printing process.
3、效率产量高: 设备可印多色胶浆,也可以一机当多条生产线用,只需要3人操作即可生产,提高生产效率,加快资本回收。
3.Efficiency high output: equipment can be printed multicolor mortar, can a machine when a number of production lines, only 3 person can operate production, improve production efficiency, speed up the capital recovery.
4、操作更简单方便: 网框固定方式独特,檫网不取网,确保套位精度稳定性,冷却工位有效降低水性胶浆塞网,提高生产效率。
4.Operating more simple: net frame is fixed and unique way, Sassafras net from net, ensure that the set of a precision stability, cooling station effectively reduce water-based mortar plug mesh, improve production efficiency.
5、设备通用性: 大小网框都可以用,公司原来的机用网框或者手印网框都可以使用,大裁片·成衣印花布受限制。
5.Equipment versatility: the size of the screen frame can be used, with the net box or fingerprint screen frame can use the company's original machine, large pieces of cloth, garment printing limited.
6、无链条传动: 本机型台板传送独特,采用无链条传动结构,增加设备的稳定性和延长设备使用寿命。
6.The chain of transmission: This machine bedplate conveyor is unique, with no chain transmission structure, increase the stability of the equipment and prolong the service life of the equipment.
7、环保低能耗: 本椭圆印花机是同等印花机的耗气量的一半,低耗能移动烘箱,适合大小印刷面积。
7.environmental protection and low energy consumption: the screen printing machine is half the air consumption of the same printing machine, low power mobile oven, suitable for the size of the printing area.
8、安全保障高: 本椭圆机在设备周围都有紧急停止开关,有效保护好操作人员安全。
8.security is high: the elliptical machine has an emergency stop switch around the equipment, effective protection of good safety of operating personnel.
关于公司
东莞市顺心自动化设备有限公司,地处于国际制造业名城广东省东莞市,专门从事自动化设备开发和生产,先进的设计理念和专业的生产技术一直是顺心的显著特点,完备加工体系、严谨周到的售后服务管理,顺心在业界已赢得良好的声誉。
产品研发方面:我公司自创建以来,成功开发制造了多款丝印设备和周边配套设备,积累了丰富的专业知识和实践经验,形成富有特色的丝印系统工程理论和精辟解决方案,可以根据企业的投资状况、生产实际和客户的要求进行方案设计,是真正意义上转交给客户的交钥匙工程。并可为客户设计节约人力的自动化设备和生产流水线。
员工素质方面:员工队伍强大,业务素质精良,具备整体项目的设计开发,生产制造,安装调试,售后服务等诸多方面的综合能力。
售后服务方面:我们以先进的专业技术和优良的售后服务为客户解决一切后顾之忧,一旦承诺,终身相随。
技术合作方面:长期以来,顺心以"整合世界先进科技,造就民族工业的辉煌"为己任,致力于消化、吸收并掌握国际先进的加工工艺与自动化设备的前沿科技。
在新世纪里,我们将更加精心打造顺心的品牌形象,愿与各位同仁携手共进,同创中国自动化设备的辉煌。
Dongguan Shunxin Automation Equipment Co., Ltd. is located in the international manufacturing city ---Dongguan City of Guangdong Province, which specializes in the development and production of automation equipment, advanced design concept and professional production technology has always been the outstanding feature of Shunxin, Shunxin has won a good reputation in the industry with complete processing system, strict and thoughtful customer service management.
Product R & D: Our company has successfully developed and manufactured a variety of screen printing equipments and peripheral supporting equipments since its establishment, therefore we have accumulated rich professional knowledge and practical experience, and formed distinctive engineering theory and insightful solutions for screen printing system, we can make project design based on the investment situation of enterprises, actual production and customer requirements, it is the exactly turnkey project that we have given to customers. In addition, we can design automation equipments and production lines to save manpower for customers.
The quality of staff: strong staff team and excellent professional qualities, with the comprehensive abilities of overall project design and development, manufacturing, installation and commissioning, after-sales service and many other aspects.
After-sales service: we can solve all worries for customers with our advanced professional technology and excellent after-sales services, once committed, lifelong quest.
Technical cooperation: Shunxin has taken "Integrating the world's advanced science and technology to create the brilliance of national industry " as own mission for a long time, we commit to digest, absorb and master the international advanced processing technology and the forefront of science and technology for automation equipment.
In the new century, we will be more elaborately to build Shunxin's brand image, we are willing to make progress together with you, so as to create the brilliance of Chinese automation equipment.